Preserve the Fleeting Moments
of the most important day of your life
in beautiful and elegant photographs!

These photos are absolutely amazing!!! You captured so many
incredible moments — it's like living the day all over again.
And every time I look at these pictures, I smile more!
Michele & Rob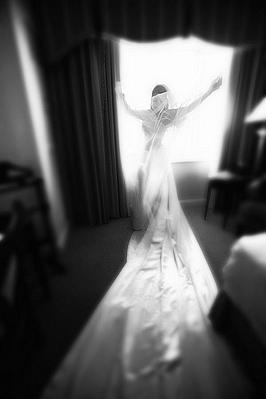 It's impossible to describe such a grand day with words, that's why there are pictures to document and revive the memories of the wedding day. It's our honor and responsibility as your wedding photographers to document the flow of events and capture and preserve the fascinating moments of the day, and to add the touch of style by expressing the delight in sharing the joy with you.
By working with us you will relieve yourself from worries about photography related tasks. We promise that you will hardly notice us, but we will notice everything and capture those fleeting moments of this one-time event. We guarantee, you will look beautiful in every photograph we am going to deliver to you. And finally, you will receive a magnificent wedding album, which your family will treasure for years to come.
Have we mentioned the endless possibilities of informal (i.e. engagement sessions) or formal shots on beautiful locations, which could complement your wedding day? Well, we are open to any of your ideas. Do you want us to travel and be your paparazzi to capture the wonderful days of your honeymoon, recreate the moments when you fell in love or proposed and make great photo album? We can do all of that and much more.
We guarantee to devote our unending patience and attention to all your concerns and wishes. Our creative minds along with the artistic talents will insure that you receive photographs, which are different from any of your friends' weddings. And in case something in your dress or hair fell out of place there are the skills in digital retouching to alter the reality and make everything perfect. Learn about the reasons why people choose us to be their wedding photographer.
In case if you want read more about our approach, you can find more answers in "Frequently Asked Questions" page or read the articles "How It All Started - The First Wedding", "Spirit of Wedding Photographer" and "What makes a Wedding Photographer" about our attitude toward the clients and wedding photography.